4925 - Wafer
Model 4925 Vent Valve is designed as a pressure or a vacuum vent valve. The minimum settings are 2 ounces for pressure and 2 ounces for vacuum.
Vacuum relief only
Pressure relief only
Soft seat materials available with a wide range of elastomers to choose from
Metal to metal seats available
1/2" NPT to 3" NPT threads
Heavily constructed giving long lasting service
Available in carbon steel or stainless steel.
Other materials available upon request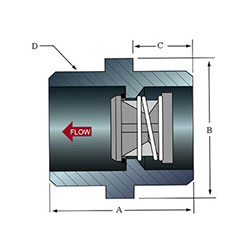 *Typical dimensions are listed. Data contained herein can be altered to accommodate design changes and changes to increase performance. Information on this page is the sole property of L6 Inc. d/b/a Total Valve Systems.